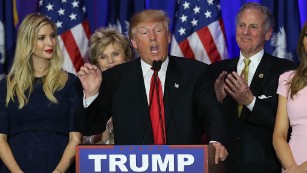 (CNN) It's over. Donald Trump is the Republican nominee.
He just added Nevada to the growing list of caucus primary wins, and while he needs more delegates to clinch it, who the heck can stop him now?
Trump with his family
He is leading in national polls and in many state polls; he's succeeded in upending rivals such as Ted Cruz, Jeb Bush and Ben Carson; and there's no one in sight who can stop him. The only question is when will the GOP embrace him? The answer: no time soon.
The establishment doesn't like him because it can't control him. Yet he's the only conservative candidate who stands a chance against Hillary Clinton. The polls may reflect Marco Rubio doing well as a conservative uniter, but no one will hammer Clinton's biggest weakness better than Trump, and that's Clinton fatigue.
That leaves Rubio and Cruz. Neither one of them can beat Clinton, or Trump for that matter. Yes, Cruz captured Iowa, but he is too scary for moderate Republicans and independents. And the GOP "establishment" can hope that with Jeb gone, Rubio will scoop up enough non-Trump votes to cruise to a victory, but that's not happening either. After Cruz and Trump grab their share of the undecided, there won't be enough left to give Rubio the bump he needs to pass Trump.
Source:
CNN.com