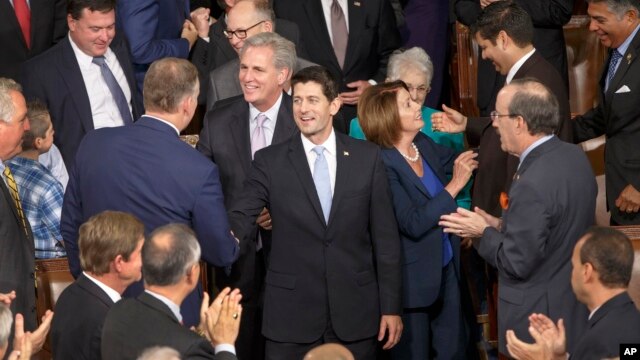 WASHINGTON—The House elected Republican Rep. Paul D. Ryan as the chamber's 62nd Speaker on Thursday, catapulting one of its youngest members to the top job in hopes that a policy-oriented, fiscal conservative could give the party a fresh start after years of strife.
Republicans put up 236 votes—a majority of the House—to make the 45-year-old the youngest speaker since Reconstruction. Nine Republicans voted for Rep. Daniel Webster (R., Fla.), refusing to join their fellow Republicans out of concern that Mr. Ryan was an establishment leader in the tradition of outgoing Speaker John Boehner. California Democrat Nancy Pelosi received 184 votes from her caucus; three Democrats voted for another candidate.
Wall Street Journal
Tân chủ tịch Hạ Viện Hoa Kỳ, dân biểu Paul Ryan tuyên bố phe Cộng Hòa, hiện đang nắm quyền kiểm soát cả hai viện Quốc hội, đã tỏ ra quá rụt rè về chính sách, và ông hứa sẽ đưa ra một nghị trình thay thế táo bạo trong việc giải quyết các vấn đề của đất nước. Là người được đa số áp đảo các đại biểu quốc hội bầu lên tuần trước, ông Ryan cũng nói với khán giả truyền hình hôm chủ nhật rằng không thể tranh luận việc cải cách vấn đề di trú một cách toàn diện khi nào Tổng thống Barack Obama còn tại chức. Thông tín viên VOA Victor Beattie tại Washington ghi nhận chi tiết trong bài tường thuật sau đây.
Ông Ryan, 45 tuổi, là vị chủ tịch trẻ nhất được bầu lên từ hơn 100 năm nay. Ông tuyên bố việc ông đắc cử tiêu biểu cho một ngày mới và hứa sẽ cắt đứt với quá khứ bằng cách đề ra 4 mục tiêu.
voatiengviet