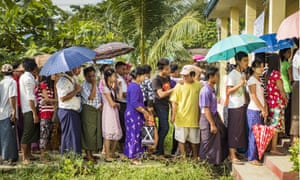 Myanmar's opposition National League for Democracy says it is confident of victory in the first openly contested national election in 25 years.
An NLD spokesman said it expected to win about 70% of seats. Party leader Aung San Suu Kyi said: "I think you all have the idea of the results."
Official results have been released for only 54 seats, with 48 won by the NLD.
The military-backed Union Solidarity Development Party (USDP) has been in power since 2011.
The NLD says it has won 44 out of Yangon's 45 seats in the lower house, and 70% of seats nationally, but this has not been confirmed.
More than 6,000 candidates from more than 90 parties were vying for 498 seats in both houses of parliament.
NLD spokesman Win Htein said it had "accumulated proof that there are some deeds by the authorities which are against the election regulations".
Source:
bbc.com
Nước lật được thuyền
Một danh nhân của Mỹ (Thomas Jefferson?) nói rằng: không phải bất cứ điều gì, mà chính là tình cảm đã làm nên cách mạng. Đúng như vậy, và hơn ai hết, VC rất biết cảm xúc hay tình cảm cách mạng là dữ dội nhất. Do đó, khi ở trong thế cai trị, VC sẽ tiêu diệt tình cảm (cách mạng) bằng mọi cách. Đấy chính là vô cảm.
Trong ngày bầu cử vừa qua ở Miến, điều làm cho các nhà quan sát ngạc nhiên lẫn cảm kích là gì ? Là sự im lặng. Quiet. Nói đúng hơn, một sự im lặng nhưng quyết định. Người dân Miến im lặng che dù, che nắng, che mưa, đứng sắp hàng dài từ sáng sớm chờ để vào phòng phiếu. Hình ảnh của họ khốn khó nghèo nàn. Nhưng cảm động. Cặp mắt những người dân nghèo lam lũ đó long lanh như muốn nói điều gì một cách dứt khoát.
Tình cảm có thể sôi nổi ồn ào. Nhưng tình cảm cũng có thể nhẹ nhàng êm ái. Một đứa bé khi nó nói hông thì cũng rất khó để ép buộc nó. Sức mạnh của người dân Miến Điện là ở sự im lặng và quyết định.