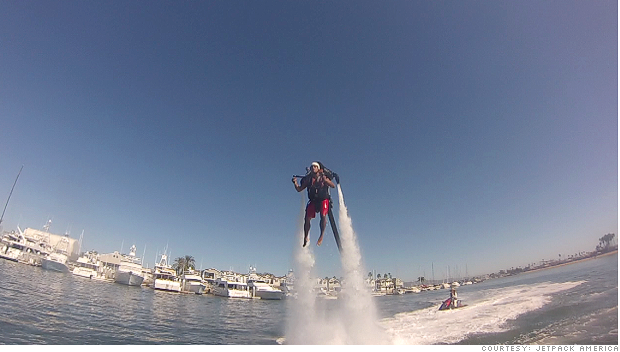 Imagine a toy that gives you the ability to fly 30 feet above the ocean, dive beneath the surface like a dolphin and walk on water. Even James Bond would be jealous.
Jetpacking may sound like something out of a science fiction film, but I experienced firsthand why it's an activity that's quickly gaining popularity among thrill seekers worldwide.
Don't feel bad if you've never heard of jetpack rides. They've been around for just a few years and are only available in a limited number of warm weather locales. But the plunging price tag for jetpacks could expand the water sport's appeal.
How was it? In a word, thrilling. My experience at Jetpack America in Newport Beach, Calif. was a lot of fun despite the somewhat unnerving initial feeling that naturally goes along with strapping on a 30-lb. pack and jumping into the water.
There's definitely a learning curve that goes with this water sport. Think: not as simple as hopping on a jet ski but not as difficult to get the hang of as surfing.
After a few minutes of learning the basics, I managed to take off, fly a few feet above the water and make basic turns. Ten minutes later I was able to soar about 25 feet in the air and dive beneath the surface.
Source:
CNN.com