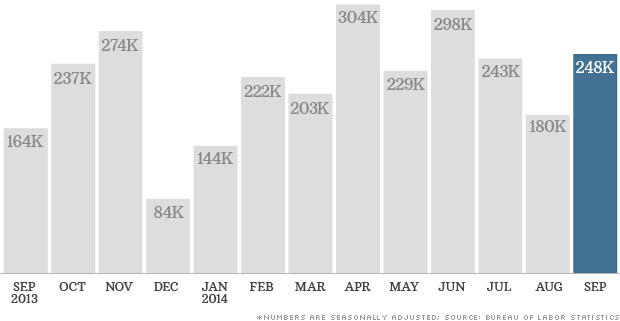 The nation's unemployment rate fell below 6% in September for the first time in six years.
The rate came in at 5.9%, while employers added 248,000 jobs last month.
The unemployment rate fell last month because more people were getting jobs, not because they were dropping out of the labor force as they have at times during the economic recovery. The share of people in the workforce was essentially unchanged.
Jobs growth was strong in professional and business services, particularly in employment services and consulting. The retail and health care sectors, which have been a powerhouse throughout the recovery, also gained. Construction added 16,000 jobs.
Friday's report is the final one before the mid-term elections on Nov. 4. President Obama touted the strength of the economy recovery in a speech in Chicago Thursday, though he noted that most of the gains are going to the wealthy.
The president's critics, however, say the unemployment rate is declining because people are getting discourage and dropping out of the workforce entirely when they can't find jobs. The share of Americans participating in the labor force is now at its lowest point since 1978, at 62.7%.
The "drop out" factor has been a problem during the recovery, but the recent decrease in the unemployment rate, which stood at 7.2% a year ago, is due more to Americans landing jobs than giving up. Employers have added 2.6 million people to their payrolls since last September.
Source:
cnn.com