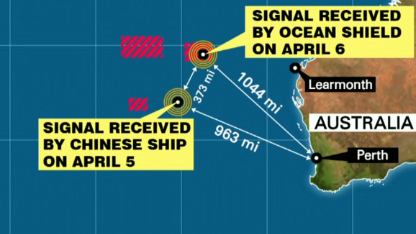 Mon April 7, 2014(CNN) -- After weeks of searching vast swaths of ocean, investigators now have their "most promising" lead yet in efforts to find Malaysia Airlines Flight 370.
A pinger locator in the Indian Ocean has detected signals consistent with those sent by a flight data recorder and a cockpit voice recorder, said the head of the Australian agency coordinating search operations.
The signals were picked up Sunday by the Ocean Shield, an Australian navy ship that's towing a sophisticated U.S. pinger locator through an area about 1,750 kilometers (1,100 miles) northwest of Perth. The first detection lasted for more than two hours; a second lasted for about 13 minutes.
The sounds were heard in a part of the ocean that's about 4,500 meters (about 14,800 feet) deep, retired Air Chief Marshal Angus Houston said Monday. (

CNN.com

)
Giới hữu trách hôm nay nói họ cảm thấy phấn khởi, tuy vẫn còn dè dặt, vì có được những chỉ dấu rõ rệt nhất từ trước tới nay về địa điểm của xác máy bay của hãng Malaysia Airlines.
Tàu hải quân Úc Ocean Shield được trang bị với xe tự hành dưới nước (AUV), và thiết bị dò tìm hộp đen dưới lòng biển sâu của Mỹ (màu vàng thứ ba từ bên phải) trước khi lên đường tìm kiếm máy bay Malaysia mất tích. Đầu mối tốt nhất trong một tháng tìm kiếm đã nhận được qua một máy dò tìm hộp đen của Mỹ mà một chiếc tàu hải quân Australia kéo theo trong vùng biển sâu cách thành phố Perth của Australia hơn 1.500 kilômét về hướng tây bắc.
(

VOAnews

)