Boeing trúng mối bán máy bay tại triển lãm hàng không quốc tế tại Dubai
Dubai-based Emirates airline placed an order for 150 of Boeing's new 777 mini-jumbos, in a $76bn (£47bn) deal.
Other orders from Etihad Airways, Qatar Airways and Lufthansa for some 109 of the new 777, previously codenamed 777X, brought its sales total to $95bn.
Emirates has also ordered 50 Airbus A380s, in a deal worth $23bn.
The airline is already the biggest customer of the A380 and the new deal will bring its total orders for the plane to 140.
And local rival Etihad Airways has also announced a firm order for 87 Airbus aircraft - some 50 A350 XWBs, 36 A320neo aircraft and one A330-200F as part of its fleet modernisation strategy.
The deal - valued at $19bn - includes options for 30 more planes.
Boeing said its 777 mini-jumbo sales represented "the largest product launch in commercial jetliner history by dollar value".
"The response to the 777X has been astounding," Boeing chairman James McNerney added at the official launch of the new plane in Dubai.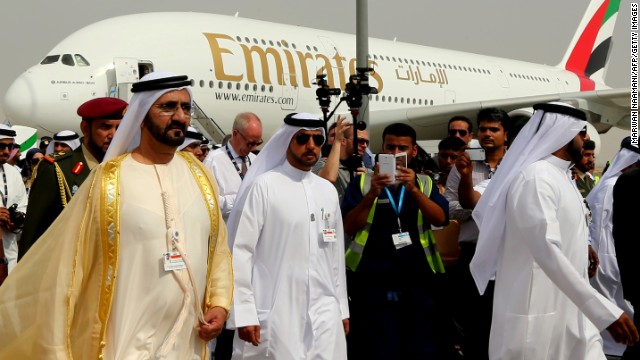 The 777 will come in two models, one seating 350 passengers, and another seating 406 people.
(Dubai Air Show: Boeing leads order books race)
Sự kiện thu hút chú ý nhiều nhất trong ngày đầu của cuộc triển lãm là ra mắt chính thức của chiếc máy bay hành khách mới nhất - Boeing 777X - của nhà sản xuất Mỹ.
Trong một thương vụ sớm ở cuộc triển lãm ngày hôm nay, hãng hàng không Emirates Airline đã đặt mua 150 chiếc máy bay khoang dài này với tổng trị giá là 76 tỉ đôla.
Hãng Airbus của Châu Âu đã khó tìm được thị trường cho chiếc A380, máy bay thương mại lớn nhất thế giới, sau khi những viết nứt mỏng như sợi tóc bị phát hiện trên cánh của loại máy bay này hồi năm ngoái. (Khai mạc triển lãm hàng không quốc tế tại Dubai)