- Well, I think I may remind you, as double check, before to see Obama, dad.
- I'm not stupid man, little toad. We always get along very awesome with China and we never forget American is our foe. Friend not enemy, kid.
- Yeah, me also. Cause I see your sleeping-eyes all the time, then I'm afraid if you will be confused something between Mr. Xi and Obama . Hey, Dad, remember to take a deep breath and make your tummy big big like me, see, then Obama will scare you, OK !
- Tía đi Mỹ tía nhớ đứng ưỡn ngực ra nhen tía!
- Tui phải nhắc tía để tía quên tía đứng dí ông Ồ Bá Mà tía tưởng đang đứng dí ông Tập tía cúi xuống nửa là hư hết đó !
- Tao nhớ chớ mậy. Ta khác còn địc thì khác chớ. Ông Tập là sư phụ còn Ồ Bá Mà là đế quốc là ĐỊC mà mậy. Ông tập là ÔNG TQ, còn Ồ Bá Mà là
THẰNG
Mỹ. Bộ mầy tưởng tao ngu hả?
- Hổng phải, tại tui thấy tía cặp mắt lim dim tui sợ tía quên. Mà tía ráng lấy hơi dô rồi phình bụng ra như tui dầy nè thì Ồ Bá Mà mới sợ tía nhen tía !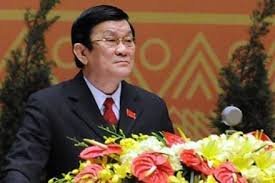 Source:
Dân làm Báo