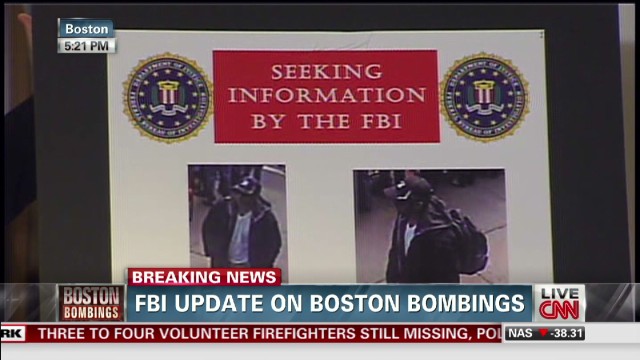 Thursday 4/18/2013
(CNN)
-- The FBI on Thursday released photos and video of two men it called suspects in the deadly bombings at the Boston Marathon and pleaded for public help in identifying them.
The two men were photographed walking together near the finish line of the marathon before the explosions that killed three people and wounded about 180. One of the two men was seen setting down a backpack at the site of the second explosion, said Special Agent Rick DesLauriers, the head of the FBI's Boston office.
DesLauriers said the men should be considered armed and "extremely dangerous."
The announcement capped a day in which President Barack Obama brought a mixture of reassurance and defiance to an interfaith memorial service in the city's Cathedral of the Holy Cross. Whoever planted the bombs "picked the wrong city" to attack, he said.
"Every one of us stands with you," Obama told the crowd. "Boston may be your hometown -- but we claim it, too. ... For millions of us, what happened on Monday is personal."
Friday 4/19/2013
http://www.cnn.com/2013/04/19/us/boston-area-violence/index.html?hpt=hp_t1
(CNN)
-- One suspect in the Boston Marathon bombings is dead. The other -- his brother -- was on the run Friday, pursued by an army of law enforcement officials whose manhunt virtually shut down the city.
A man identified by several sources as Tamerlan Tsarnaev, 26, died after an overnight shootout with police. He's the man described Thursday by the FBI as black-capped Suspect No. 1 in the attacks Monday that killed three.
His brother, Dzhokar Tsarnaev, apparently escaped -- leading police to throw a huge dragnet around the region. In photos released by the FBI of the bombing suspects, the younger brother is seen wearing a white cap. The agency called him Suspect No. 2.
Friday 4/19/2013
CNN)
--
[Breaking news update 8:48 p.m. ET]
The suspect in the Boston Marathon bombings is in custody, Boston police tweeted.