"World markets are opening 2013 on a high note, after the U.S. Congress reached a deal to avert an early 2013 financial crisis that threatened to send the world's largest economy into recession.
In the U.S., key stock markets all jumped 2 percent or more in the first half hour of trading Wednesday. Stocks also were surging in Europe, with markets in London, Frankfurt and Paris all advancing more than 2 percent in afternoon trading.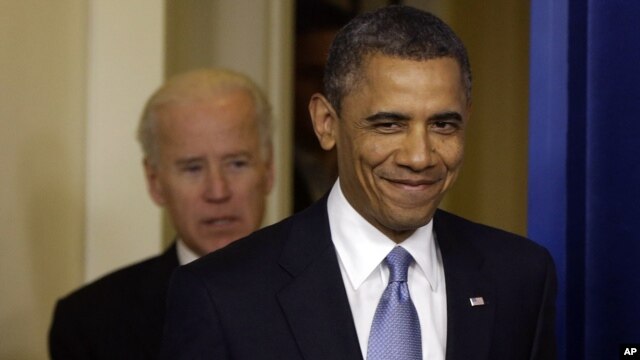 Earlier, Asian markets welcomed the U.S. legislative action in the first trading of the new year, with Hong Kong ending up 2.9 percent, Sydney gaining 1.2 percent, and Seoul adding 1.7 percent. Markets in Japan and China were closed for public holidays". (
VOAnews English
)
"After a dramatic day of unexpected twists and turns, the U.S. House of Representatives has passed the Senate compromise bill to avert massive tax increases and severe cuts to government spending known as the fiscal cliff.
Earlier in the day, passage of the measure seemed in doubt, when House Republicans complained bitterly about the need for more cuts to government spending. President Obama welcomed the last minute reprieve from the cliff.
After almost two years of wrangling between Republicans and Democrats on the level of taxes Americans should pay and the size of cuts to government spending, the House and Senate have both passed a compromise agreement to pull the country back from the edge of the fiscal cliff." (VOAnews English)
"Sau một ngày có những biến đổi bất ngờ, Hạ viện Mỹ đã thông qua dự luật thỏa hiệp của Thượng viện để né tránh những khoản tăng thuế và cắt giảm chi tiêu chính phủ với qui mô lớn, thường được gọi là bờ vực tài chánh. Trước đó trong ngày thứ ba, việc thông qua dự luật này đã trở nên bấp bênh khi các dân biểu Cộng hòa đòi có thêm những khoản cắt giảm chi tiêu. Từ Trụ sở Quốc hội, thông tín viên Cindy Saine của đài VOA gởi về bài tường thuật sau đây.
Sau cuộc tranh cãi gần hai năm giữa phe Cộng hòa và phe Dân chủ về mức thuế mà người Mỹ nên đóng và về qui mô của kế hoạch cắt giảm chi tiêu chính phủ, Hạ viện và Thượng viện đã thông qua một thỏa hiệp để nước Mỹ không bị rơi xuống bờ vực tài chánh." (VOAnews Vietnamese)