Thanksgiving Day is a federal holiday in the United States. Thanksgiving Day in the United States is a holiday on the fourth Thursday of November. It precedes Black Friday.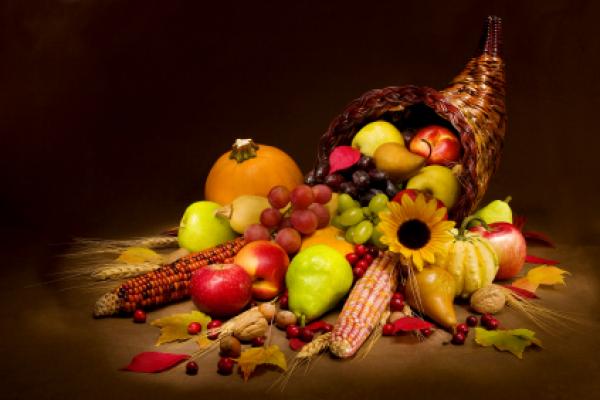 Thanksgiving Feasting
When the Halloween pumpkins are gone,
And the leaves have all fallen to ground,
When the air has turned windy and cold,
Then Thanksgiving will soon be around.
Thoughts of loved ones all feasting together,
Pleasant pictures from past times appear
To dwell in each heart and each mind--
Then Thanksgiving is finally here!
The kitchen has scrumptious aromas,
The dining room looks oh, so fine,
Decorations with pilgrims and turkeys,
And now we are ready to dine!
First the napkins are placed on our laps;
Now the prayer for the meal to be blessed,
Then we stuff the good food in our tummies,
And we hope for it all to digest!
By Joanna Fuchs
Thanksgiving Day is traditionally a day for families and friends to get together for a special meal. The meal often includes a turkey, stuffing, potatoes, cranberry sauce, gravy, pumpkin pie, and vegetables. Thanksgiving Day is a time for many people to give thanks for what they have. Thanksgiving Day parades are held in some cities and towns on or around Thanksgiving Day. Some parades or festivities also mark the opening of the Christmas shopping season. Some people have a four-day weekend so it is a popular time for trips and to visit family and friends.
(
Thaksgiving Day
)