Tiểu thương cũng phải đi vào ổn định
và trật tự theo định hướng XHCN
 Có nhiều chỉ dấu gần đây cho thấy kinh tế VN trong tình trạng xuống dốc thê thảm, có nguy cơ chìm tàu.
Ngày 28/9/12
Moody' s Investors Service đánh tuột giá một loạt 8 ngân hàng lớn của VN,
Asia Commercial Bank
 The E+ bank financial strength rating (BFSR) was downgraded to E, which maps to caa1 on the long-term scale. The local currency and foreign currency long-term deposit ratings were downgraded to B3 from B2. The local currency and foreign currency long-term issuer ratings were also downgraded to B3 from B2. The revised ratings have stable outlooks. The short-term rating of Not Prime was unaffected.
Moody' s downgrades 8 Vietnam banks

 Ngày 1/10/12
Reuters đăng bài báo bất thường của bình luận gia Rob Cox với tựa đề: Vietnam is a bad example to newly emerging markets – Việt Nam là một thí dụ điển hình xấu về sự hòa nhập vào những thị trường mới.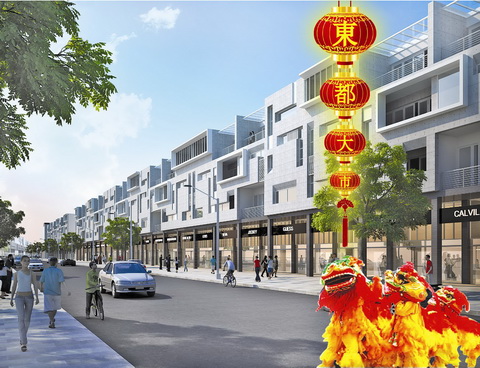 Đông Đô Đại Thị Bình Dương
Mô hình kinh tế vĩ mô hiện đại hợp tác kết hợp
hữu cơ môi hở răng lạnh giữa VN và TQ
 Either way, the current disillusionment suggests that any money that flows to Vietnam will come with strings attached. Deep reform, including privatization, of the country's lumbering state-owned enterprises and greater adherence to the rule of law will be required. Both would upset the ruling elite, whose Porsches and Bentleys vie with bicycle rickshaws in the clogged streets of old Hanoi. The justifiably proud Vietnamese won't want to cede much, if any, influence to the likes of the IMF. But if they can find ways to change things cautiously for the better, they could yet offer a more positive example to Myanmar and other emerging economies.
Vietnam is a bad example


Đối tượng kinh doanh ngoài luồng
không chấp hành tốt quy định của nhà nước XHCN
 Toàn là những đám mây u ám cho kinh tế VN. Chẳng những u ám, nó còn rất thê thảm. Trong tình trạng này, có nhiều khả năng China sẽ vận động để lấy lại sự cân bằng tương đối cho VN. Điều này có nghĩa gì? Dân VN sẽ bước vào giai đoạn mô hình TQ, Hán hóa sâu rộng và toàn diện hơn nữa!
Người Mỹ gọi những thời điểm này là turning point bước rẽ xoay chuyển và thay đổi. Liệu người VN có đủ sự lớn mạnh và dũng cảm để dành lại quyền làm chủ vận mệnh của mình hay không?