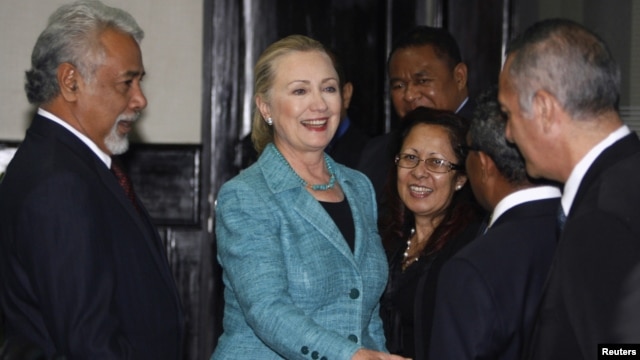 U.S. Secretary of State Hillary Clinton (C) shakes hands
with staff members next to East Timor's Prime Minister
Xanana Gusmao (L) at the Prime Minister's office in Dili September 6, 2012.
Mỹ sẽ không lùi bước trước các bất đồng với Trung Quốc

DILI, EAST TIMOR — U.S. Secretary of State Hillary Clinton says Washington will not back away from differences with China about Syria and the South China Sea. Following a rough reception in Beijing Wednesday, Secretary Clinton told reporters in East Timor Thursday that the Obama administration will engage China where it can and stand its ground where it cannot.
The United States, certainly I, am not going to shy away from standing up for our strategic interests and expressing clearly where we differ. The mark of a mature relationship, whether it is between nations or people, is not whether we agree on everything," noted Clinton, "because that is highly unlikely between nations and people, but whether we can work through the issues that are difficult.
Ngoại trưởng Hoa Kỳ Hillary Clinton tuyên bố Washington sẽ không lui bước trước các bất đồng với Trung Quốc về Syria và Biển Ðông. Sau một cuộc tiếp đón không mấy êm ái tại Bắc Kinh hôm qua, Ngoại trưởng Clinton nói với các phóng viên tại Ðông Timor rằng chính quyền Obama sẽ tham gia với Trung Quốc khi nào có thể được và sẽ giữ vững lập trường khi nào không thể được.
"Chắc chắn, tôi không sẽ không tránh né việc phải bênh vực cho các lợi ích sách lược của chúng tôi và bầy tỏ rõ ràng khi có sự bất đồng. Biểu hiệu của một mối quan hệ trưởng thành, cho dù là giữa các quốc gia hay giữa người này và người kia, không phải là phải đồng ý về tất cả mọi thứ. bởi vì điều đó khó lòng có thể xảy ra giữa các quốc gia cũng như giữa người này và người kia, mà là liệu chúng ta có thể thảo luận các vấn đề khó khăn hay không." (VOA tiếng Việt)
U.S. Secretary of State Hillary Clinton at East Timor
Rough reception with China?
I think China play the game, they always do fake games, cause they know the relationship will be more rough when the Republicans may step in the White House next . So what? They make believe that. Fake . They are really worring ... So lunatic and copy kitty those Sino guys!