Natasha Trethewey
19th U.S. Poet Laureate

Natasha Trethewey

Natasha Trethewey was born in Gulfport, Mississippi, in 1966. She earned an M.A. in poetry from Hollins University and M.F.A. in poetry from the University of Massachusetts.
Her first collection of poetry, Domestic Work (2000), was selected by Rita Dove as the winner of the inaugural Cave Canem Poetry Prize for the best first book by an African American poet and won both the 2001 Mississippi Institute of Arts and Letters Book Prize and the 2001 Lillian Smith Award for Poetry.
In 2012, Trethewey was named the 19th U.S. Poet Laureate by the Library of Congress.
Natasha Trethewey được Thư Viện Quốc Hội Hoa Kỳ chọn là Thi Nhân Quốc Gia thứ 19th của Mỹ, trong năm 2012. Bài thơ Pilgrimage - Hành Hương dưới đây được trích trong tập thơ "Native Guard" xuất bản năm 2006.
Pilgrimage

Mississippi River

by Natasha Trethewey

Vicksburg, Mississippi

Here, the Mississippi carved
its mud-dark path, a graveyard
for skeletons of sunken riverboats.

Here, the river changed its course,
turning away from the city
as one turns, forgetting, from the past—
the abandoned bluffs, land sloping up
above the river's bend—where now
the Yazoo fills the Mississippi's empty bed.

Here, the dead stand up in stone, white
marble, on Confederate Avenue. I stand
on ground once hollowed by a web of caves;
they must have seemed like catacombs,
in 1863, to the woman sitting in her parlor,
candlelit, underground. I can see her
listening to shells explode, writing herself
into history, asking what is to become
of all the living things in this place?

This whole city is a grave. Every spring—
Pilgrimage—the living come to mingle
with the dead, brush against their cold shoulders
in the long hallways, listen all night
to their silence and indifference, relive
their dying on the green battlefield.

At the museum, we marvel at their clothes—
preserved under glass—so much smaller
than our own, as if those who wore them
were only children. We sleep in their beds,
the old mansions hunkered on the bluffs, draped
in flowers—funereal—a blur
of petals against the river's gray.

The brochure in my room calls this
living history. The brass plate on the door reads
Prissy's Room. A window frames
the river's crawl toward the Gulf. In my dream,
the ghost of history lies down beside me,
rolls over, pins me beneath a heavy arm.
*
Hành hương
Thành phố Vicksburg, bang Mississippi
Đây, sông Mississippi đắp tạc
dòng bùn đen, thành nghĩa trang
cho những bộ xác sườn của thuyền bè bị đắm
Đây, dòng sông chuyển hướng,
quay rời khỏi thành phố
như người quay lưng, quên luôn, cả quá khứ -
những con dốc đứng bị bỏ lại, đất hóa bùn
trên đầu sông khúc cong - nơi mà
nhánh Yazoo đổ vào đầy lòng Mississippi lưng cạn.
Đây, tượng đá đứng chết cứng, đá cẩm thạch trắng,
trên Đại Lộ Confederate. Tôi đứng
trên mặt đất có lúc là những hang động rỗng;
hẳn chúng tựa như là những hầm mộ,
năm 1863, với người phụ nữ đang ngồi
trong phòng ngủ mình, ánh nến lung linh, dưới mặt đất.
Tôi thấy nàng lắng nghe tiếng vỏ thuyền trúng đạn vỡ tung,
viết trang sử cho mình, hỏi sẽ trở thành cái gì
tất cả những sinh vật trong chổ này đây?
Toàn thành phố là cái nhà mồ. Mỗi một nguồn lạch -
Hành hương - sống chết lẩn vào nhau, vin chạm vào nỗi lạnh lùng
trong những hành lang dài hun hút, lắng nghe suốt canh trường
sự tịch lặng và hững hờ, làm hồi sinh
tử phần trên bãi chiến trường cỏ xanh.

Nơi viện bảo tàng, chúng ta sững sờ trước áo quần của họ -
trưng kín trong hộp kiếng - quá nhỏ nhoi tầm thường
so với của bọn ta, như là ai mặc nó
chỉ là bọn con nít. Chúng ta nằm ngủ trên giường chõng của họ,
những căn nhà rông chênh vênh trên triền dốc đứng, đắp tấm ra
bông hoa - đám tang- cánh hoa nhòe
che lấp màu xám cuộn của dòng sông
Tập sách mỏng trong phòng tôi gọi đó
là lịch sử sống. Tấm bảng đồng trên cửa đọc được
Prissy's Room. Khuôn cửa sổ gói ghém hình ảnh
khúc trườn dòng sông đến Vịnh. Trong giấc mơ của tôi
hồn ma lịch sử nằm xuống bên cạnh,
lăn mình, ấn ghim tôi dưới cánh tay chĩu nặng.
.............................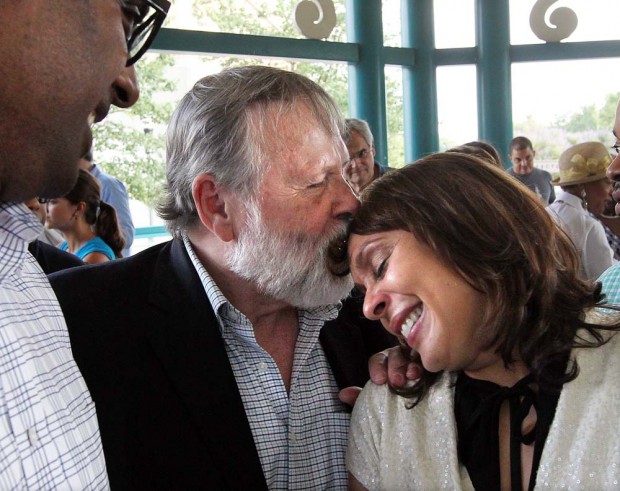 U.S. Poet Laureate Natasha Trethewey
is kissed by her father Eric Trethewey
with her husband Brett Gadsden
 Pilgrimage
1: a journey of a pilgrim; especially : one to a shrine or a sacred place
2: the course of life on earth
Bài thơ toát lên lòng hoài cảm hoài cổ và trang trọng lịch sử. Khi tác giả so sánh những đồ vật trong viện bảo tàng cũng như tài liệu sách vở quá gói ghém sơ sài so với dòng sông Mississippi chở chuyên lịch sử bi hùng tráng lệ.
Thi ca của Natasha có thể nói là pha lẫn thể tự do free verse với cổ điển dân ca sonnet and the villanelle. Natasha Trethewey hay làm thơ đào sâu hồi niệm lịch sử và quá khứ. Cô rất trang trọng lịch sử Hoa Kỳ thời Nội Chiến 1861 - 1865. Natasha Trethewey, nhà thơ bán cổ điển trong thời đại hiện tại.
http://www.pbs.org/newshour/art/blog/2012/06/natasha-trethewey-named-poet-laureate.html