A girl
The tree has entered my hands,
The sap has ascended my arms,
The tree has grown in my breast-
Downward,
The branches grow out of me, like arms.
Tree you are,
Moss you are,
You are violets with wind above them.
A child - so high - you are,
And all this is folly to the world.
Ezra Pound
*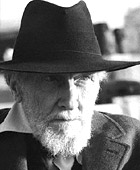 Cây mọc trong đôi bàn tay ta,
Nhựa trào dâng cánh tay nuột nà,
Em những bông hoa tim tím mơn gió.
Và thế là khiến cả thế gian nổi cơn ngây dại.
(Lý ốc chuyển sang Việt Ngữ)
Ezra Pound thường được xem là nhà thơ thủ lĩnh trong việc định nghĩa và truyền bá mỹ học hiện đại trong thơ. Trong danh sách 50 bài thơ được yêu chuộng nhất ở Mỹ, bài A Girl được xếp thứ
9th.
Famous Poets and Poems